It's not really winter yet but it's getting colder. You feel like wearing your woolly socks, sitting in front of a crackling fireplace, and nursing a piping hot drink in your hands.
What could the hot drink be? How about a delicious homemade hot chocolate which you can prepare in 2 minutes? It's good for the cold and good for you!
Below is the best hot chocolate recipe I've tried as the only ingredients required are a chocolate bar and milk.
(Remember to get good quality chocolate containing at least 60% cocoa. It doesn't matter whether it's Belgian, German, Swiss or French chocolate.)
With such simple ingredients, can you really find an excuse for not trying this homemade hot chocolate recipe? Read on to learn how to make a hot chocolate!
Homemade Hot Chocolate Recipe Ingredients for 2:
1 measuring cup / 200 ml of milk
10 pieces of chocolate from a chocolate bar (containing 65% cocoa)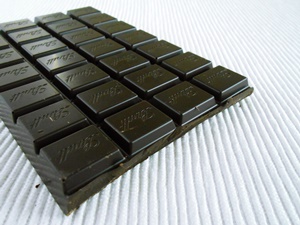 Kitchenware:
2 serving cups
A microwave oven
Step 1
Drop 5 pieces of chocolate into each serving cup.
Then pour 100 ml of milk into each cup.
Step 2
Put each serving cup into the microwave for 1 minute at maximum power to melt the chocolate. Note: the milk should not boil.
Take the cup out of the microwave, stir with a teaspoon…done!
Tip: Take a sip, and add a teaspoon of table sugar if needed. You can pair the hot chocolate with cookies if you like.
Result
I know, I said I made two cups and you can only see one in the picture. My wife had already drunk the other cup when I took this picture. You have to act fast when it comes to drinking chocolate.
Would you like to see a hot chocolate Youtube video? Comment below!
If you like this recipe, sign up for our newsletter below to get quick and easy meal ideas for two.