For the best chicken stir fry recipe we've tasted in the past year, look no further! Our taste buds had a real treat in Thailand last year, and now back home, our taste buds are screaming for the same 5 star treatment. Thankfully, our domestic hero, Arnaud, comes to the rescue with his yummy homemade version of Asian stir fry chicken with peppers, onion, cashew and soy sauce.
This light and low fat chicken stir fry requires few ingredients and is compliant with most of the diets you can find out there – provided you don't put too much oil and soy sauce, of course! Just try it, this quick and simple chicken stir fry dish won't take you more than 20 minutes and is perfect for cooking a light dinner. It contains no cornstarch, no sugar, no ginger and can be served over rice.
Read on to find out more about this easy and healthy chicken stir fry wok recipe.
Chicken Stir Fry Ingredients, 2 Servings
2 chicken filets
1 onion
2 garlic cloves
1 red pepper (aka paprika/capsicum/bell pepper/sweet pepper)
100 g (4 oz) green peas
100 g (4 oz) cashew nuts
olive oil
sesame oil
soy sauce (or hoisin/oyster sauce)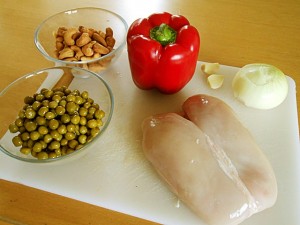 Kitchenware
a cutting board
a big knife
a wok
Step 1
You knife's ready? Chop the onion, the 2 garlic cloves and the pepper into small pieces. Then cut the chicken into small cubes.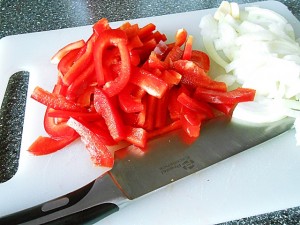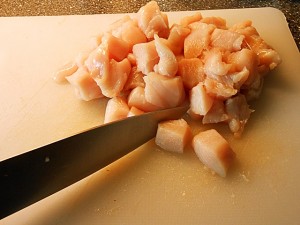 Step 2
Add a tablespoon of olive oil into your wok and place it on medium fire. Fry the onion and the garlic first for approximately 2 minutes and then add the red pepper. Lower the fire and fry the mix for about 10 minutes. Remove the mix from the wok and keep it aside.
Chicken stir fry healthy tip: if you want to limit the amount of olive oil you add, pour the oil into the wok and use a kitchen towel to wipe and spread it, then place the wok on the fire.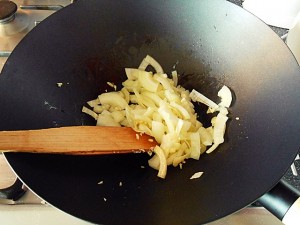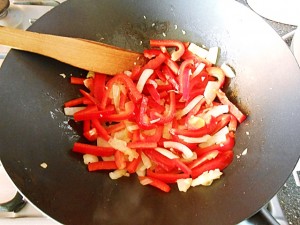 Step 3
Add a tablespoon of olive oil in the wok and place it on medium fire again. Fry the chicken, but don't put too much in the wok in one go. Fry in 2 or 3 rounds if necessary.
Chicken stir fry technique tip: to help the chicken remain tender, put it into the wok when the oil is hot, and then don't stir for 1 min. After that carefully flip the chicken cubes over a few times until all sides are cooked.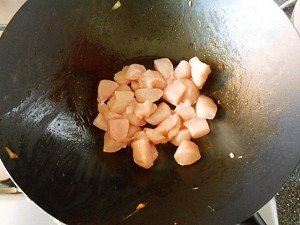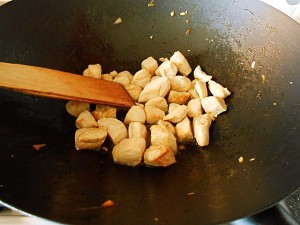 Step 4
It's now time to add the rest. With low fire, put the pepper-onion-garlic mix back into the wok, add 1 tablespoon of sesame oil and 2 tablespoons of soy sauce to make the chicken stir fry sauce. Finally add the green peas and the cashew nuts. Fry it for a couple of minutes until all the ingredients are hot enough to serve.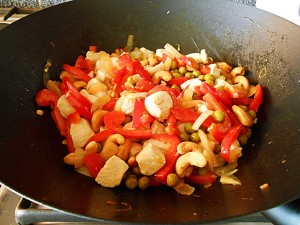 Result
Tada! This chicken stir fry is delicious with rice – and white wine if you ask me.
Dear readers, would you like to see a chicken stir fry youtube video? Please comment below!