Looking for an easy to make dessert? Here's a delicious apple pie recipe with fresh apples. Why delicious? Coz the apples are baked in homemade caramel. Why easy? Coz we aim to be simpler than The Joy of Cooking.
This quick and easy dessert is perfect in autumn/winter as it's served warm. I love to bake this apple dessert when I have guests as it can be customized. It's nice for guests to be able to choose what they want on it–be it vanilla ice cream, crème fraîche, or even flambée with Calvados (an apple brandy from France).
Our apple pie recipe has no top crust, no cinnamon and no nutmeg. Read on to find out how to make this dessert from scratch.
Apple Pie 4 Ingredients:
40g (1.5oz) butter
120g (4oz) sugar
4 big apples
a roll of apple pie puff pastry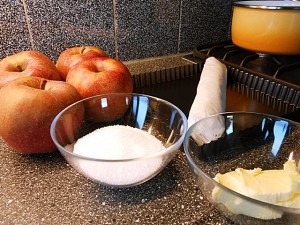 Kitchenware
a big knife
a saucepan for the caramel
an apple pie plate, round or square (mine is square)
Baking time
35 minutes in total
Step 1
Start with making the caramel. Put the butter and sugar in a deep pan on high fire. Stir with a wooden spoon, the butter will melt quickly and the mix will turn brown. As soon as it's homogeneously brown and liquefied, remove it from the fire or else the caramel will burn. Pour the caramel into the apple pie plate.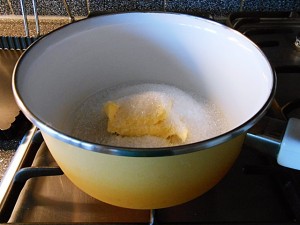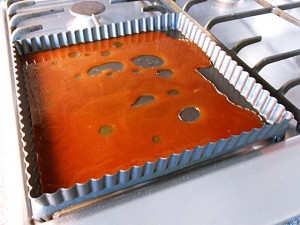 Step 2
Turn the oven on and set it to 200ºC (400F). Peel the apples, cut them into 4 and remove the seeds. Arrange them on top of the caramel in the apple pie plate. Bake the apples and the caramel for 15 minutes. This will be the apple pie filling.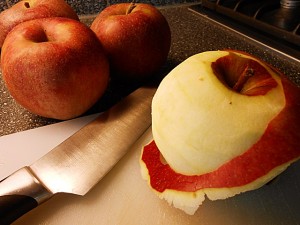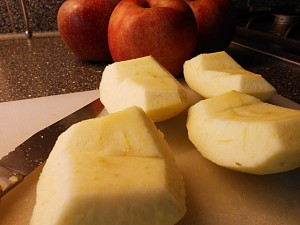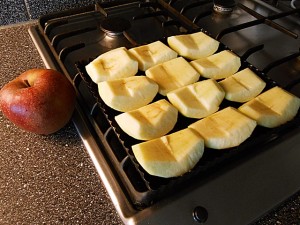 Step 3
Set the oven to 180ºC (350F). Take your baked apples out of the oven. Unroll the puff pastry over the apples. (Be careful, it's hot, waiting a couple of minutes could be a good idea.) Tuck the puff pastry in on the edges, this step will be useful later when the apple pie is flipped over. Bake for another 20 minutes until the puff pastry has a nice tan, this will be the apple pie crust.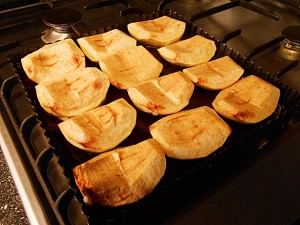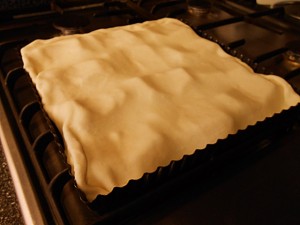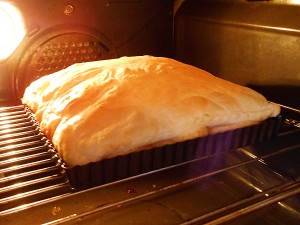 Step 4
Remove from the oven. Put a bigger plate over your apple pie plate, then flip everything over, so now the apple pie will be on the bigger plate.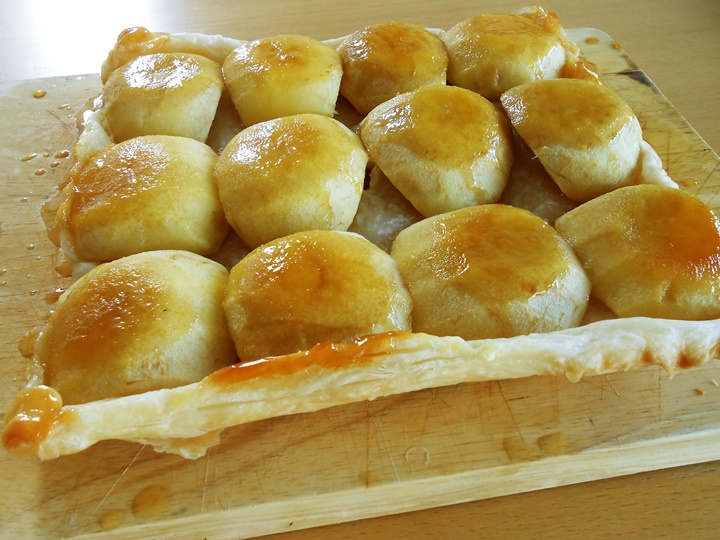 Result
Cut the apple pie into slices for your guests, it's ready to be eaten – serve it warm!
Variations: You can add a tablespoon of crème fraîche on your portion – I personally love it! It's also great with vanilla ice-cream.
What do you think of our quick and easy apple pie recipe and tips? Would you like to see a youtube video of the cooking process? Please comment below!