Want to eat well for Valentine's Day and thinking of what dishes to make? How about vegetarian lasagna with a taste of home? Our quick and easy recipe comes with eggplant and white sauce. This dish can be made ahead and left overnight and is perfect for winter. Read on to see our healthy and simple vegetarian lasagna recipe with no noodles, no mushrooms and no eggs. Takes 30 minutes.
Vegetarian Lasagna Ingredients (serves 2-4):
1 eggplant
1 onion
1 can peeled tomatoes
2 teaspoons of dried thyme
50 g (2 oz) butter
50 g (2 oz) flour
50 g (2 oz) grated cheese
500 ml (2 cups) milk
lasagna sheets (6 to 8)
olive oil
salt
pepper
Kitchenware
a big knife
a fry pan
a saucepan
a whisk
a rectangle baking dish
Step 1: Vegetarian lasagna eggplant
Start with the eggplant. Wash and dry it. Cut it into thin slices with an efficient knife.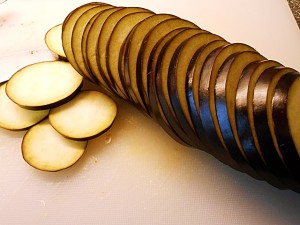 Pour olive oil into a pan so that a thin layer covers the surface. Turn on the stove with medium fire, wait a bit for the oil to heat up and put the eggplant slices in the pan. Stir-fry the eggplant slices 3 to 5 minutes in the pan on both sides. Lower the fire if the eggplant slices get brown too fast. Do two rounds if you have too many slices for the size of your pan.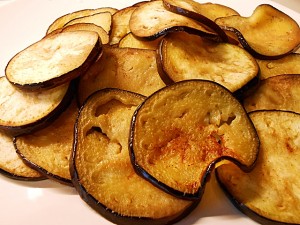 Step 2: Vegetable lasagna tomato sauce
Peel the onion and cut it into small pieces. Pour one tablespoon of olive oil into a pan and fry the onion for 2 minutes on medium fire. Then add the can of peeled tomatoes and 2 teaspoons of dried thyme. Turn the fire lower and simmer it for about 10 minutes.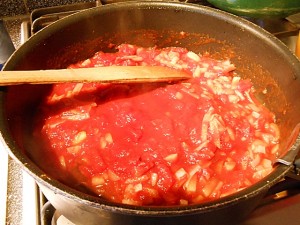 Step 3: Vegetarian lasagna white sauce recipe
Now make the white sauce. Put the butter in a deep pan on medium fire. When it's melted add the flour and beat with a whisk for 1 minute.
Pour the milk bit by bit: at first the mix will quickly thicken. Keep stirring using the whisk to avoid lumps in your sauce. When you have poured all the milk, the mix will become liquid again, it should be smooth and without lumps.
After a while on medium fire, the sauce thickens. Use a spatula to check when it stops thickening and remove from the fire. Season with salt and pepper – do it bit by bit and try the sauce yourself until it's tasty enough (be careful, the sauce is really hot!).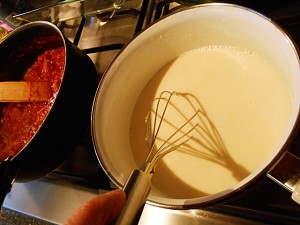 Step 4: Vegetarian lasagna layers
Turn the oven on and set it to 180ºC (350F).
Gather all your ingredients: the eggplant slices, the tomato sauce, the white sauce and the lasagna sheets.
In an oven friendly dish, pour a thin layer of white sauce.
a. Cover it with lasagna sheets.
b. Add a layer of tomato sauce.
c. Add a layer of eggplant slices.
d. Cover with white sauce again.
Repeat steps a. to d. and ensure you finish with a layer of white sauce on top.
And now the finish: sprinkle grated cheese on top.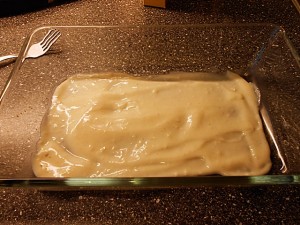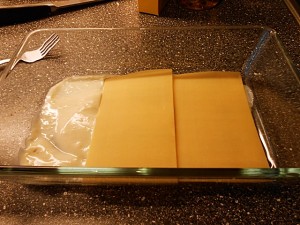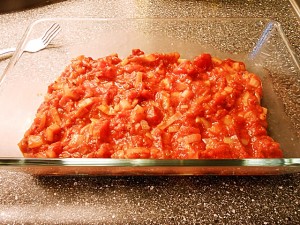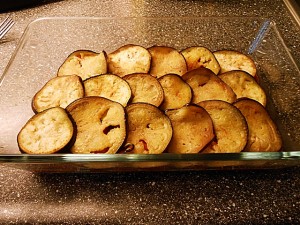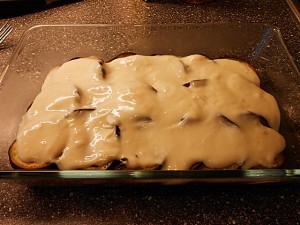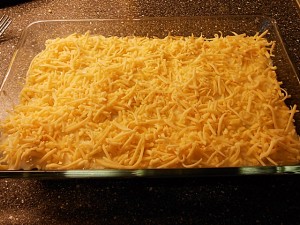 Step 5
Put in the oven for 30 minutes.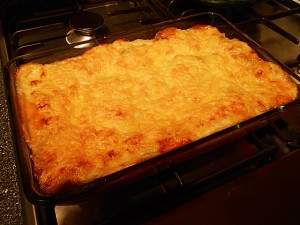 Result
Would you like to see a vegetarian lasagna Youtube video recipe? Please comment below!