Do you want to pig out on the best cranberry cookies ever?
I was browsing through my news feed one day and realized there were very few photos of cranberry cookies on Pinterest.
Which is weird, considering how my wife and I can demolish them at one go.
I had experimented with baking them in the past and cranberry cookie time was long overdue. So I got to work in the kitchen.
Below you'd find the top cranberry cookie recipe I perfected after some experiments. It only takes 6 ingredients and 25 minutes to make 20 of them.
Tip: It's not a must to bake the cranberry cookies using fresh cranberries, dried cranberries are easier to find and work great.
You can make them smaller or bigger, rough or even depending on your preferences. Enjoy!
Warning: You might start off with the best intentions to share them with your colleagues the next day. It probably won't happen.
Ingredients for 20 Cranberry Cookies
200g (1 1/2 cup) wheat flour
140g (3/4 cup) unrefined sugar
100g (1/2 cup) butter at room temperature
100g (3/4 cup) dried cranberries
1 egg
1 tbsp baking powder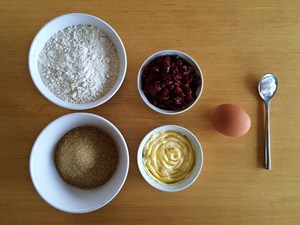 Kitchenware
You'll need a mixing bowl, a whisk or an electric mixer, a spatula, and a cookie pan for your oven with a sheet of baking paper on it. C'est tout!
Step 1
Turn on your oven and set it to 180°C / 400°F.
Break the egg in a mixing bowl and add the unrefined sugar. Beat with a whisk or an electric mixer until foamy. Add small pieces of butter and mix well with a spatula.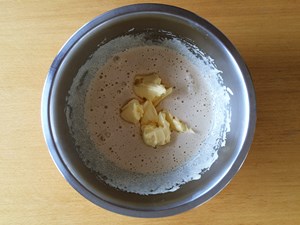 Step 2
Add the flour incrementally (not in one go) and mix with the spatula again.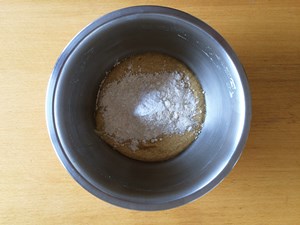 Step 3
Now add the dried cranberries and mix again.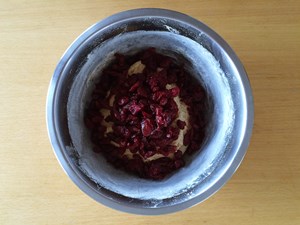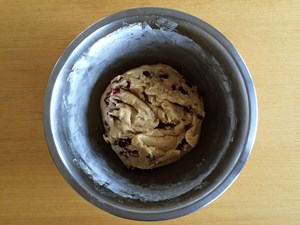 Step 4
Place a sheet of baking paper on a cookie pan.
You can choose how you want your cookies to look. Note: You don't need a cranberry cookies mold.
For a rough surface like the pic below, take some dough with a tablespoon and use another spoon to scrape it onto the pan.
For an even surface, take some dough and roll it into a small ball with your hands. Put the dough ball on the pan and slightly flatten it with your palm.
Once you are done, put the pan in the oven for about 15 minutes until the cookies start to turn brown.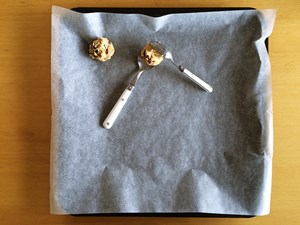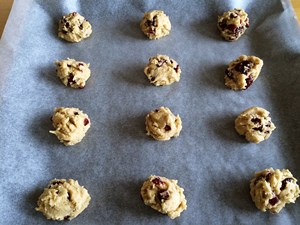 Result
You can eat the cranberry cookies while they're still warm. In the unlikely event that there are leftovers, you can keep them in a Tupperware box for 2-3 days.
Do you love this recipe? Get more quick and easy recipes like this by entering your email in the signup box below.