Have you watched the animation movie "Ratatouille"? If you did, you'd have heard the catch phrase "Anyone can cook!", which the French chef kept repeating. I agree with him and believe that you can get better with practice.
What has this got to do with our post? Well, today you'd learn how to make ratatouille. What is ratatouille (pronounced rat-uh-TOO-ee), you ask? According to Wikipedia,
Ratatouille is a traditional French Provençal stewed vegetable dish, originating in Nice. The full name of the dish is ratatouille niçoise.
Ratatouille has a long history in France. You can cook it Provencale style, Arabian style, as a gratin, as a filling for lasagna, as an omelette, as a pizza topping, as a quiche stuffing, or as a tart. The possibilities are endless!
It's delicious, healthy, and has many variations. You can add olives or mushrooms if you happen to love them. You can serve ratatouille with polenta, rice, couscous, quinoa or pasta. You can even have it as a starter or on a slice of bread.
Not a vegetarian? Then you can serve ratatouille with meat, chicken, sausage, cheese, poached eggs, etc.
Cooking greats like Julia Child, Jamie Oliver, and Ina Garten all have recipes for ratatouille. And Joy of Cooking featured it as well.
Nowadays, people generally cook ratatouille using a slow cooker/crockpot or bake it as a casserole in the oven.
But there's some debate on how to best cook this dish. Should you bake or simmer? Should you cook the vegetables together or separately?
Moi? I like to stick to a real simple "quick-and-easy" solution. Below you'd find the best ratatouille recipe in my family. (Note: This is different from the one in the movie. Sorry, Disney/Pixar fans!) 
If you follow this authentic 5 star recipe, you should be able to cook a kickass, yummy ratatouille at the end. Think of it as a wiki 101 intro. C'est parti!
How to Make Ratatouille*
*This is a vegan, paleo, gluten-free, low carb, low fat, low calories, and low GI recipe.
Ratatouille Recipe Ingredients
1 eggplant (aka aubergines)
1 zucchini
3 tomatoes
1 red bell pepper
1 onion
2 garlic cloves
2 tbsp olive oil
2 tsp thyme
1 tsp herbes de Provences
A pinch of salt and pepper
Tip: Only use fresh vegetables if you want to keep the dish healthy. You might be tempted to use canned tomatoes or tomato sauce/paste, don't!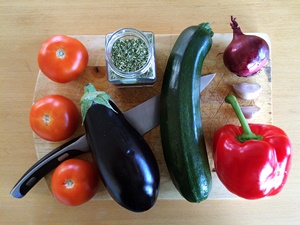 Kitchenware
What you need to make a ratatouille is a deep frying pan (I use a stockpot instead because it's more convenient), a cutting board and a good knife.
Step 1
Wash the vegetables. Cut the zucchini and eggplant into small cubes and throw them into two separate bowls. Add 1 teaspoon of salt in each, mix well and leave the bowls aside.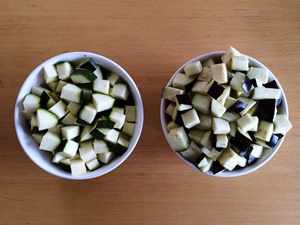 Step 2
Peel the onion and garlic cloves, cut them into small pieces. Remove the stem and seeds from the red bell pepper and cut it into small cubes. Cut the tomatoes into small cubes too.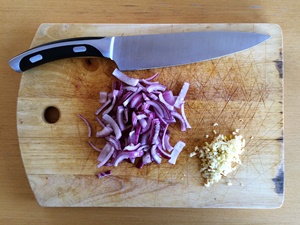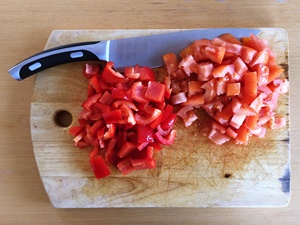 Step 3
Add 2 tablespoons of olive oil in a deep frying pan. Put the pan on medium fire and add the onions and garlic cloves as soon as the oil is hot.
Stir a few times and after 2 minutes add the eggplant and the red bell pepper. Cook for 5 minutes.
Tip: Don't add the zucchini and tomatoes now because they release water as they simmer, and you'd end up with a ratatouille soup instead of a vegetables mix. Only add them in steps 4 and 5.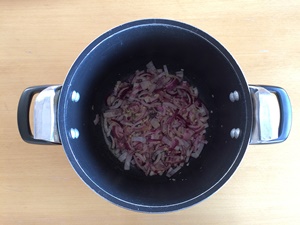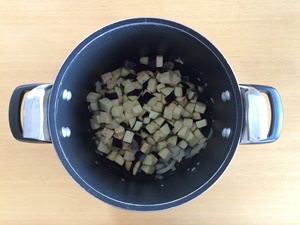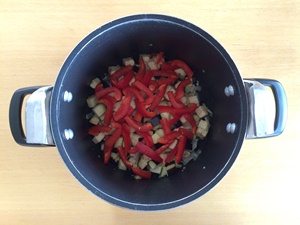 Step 4
Add the zucchini and cook for another 5 minutes on medium fire.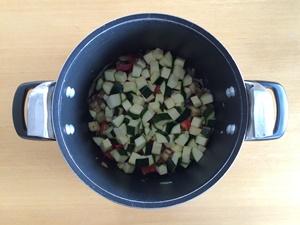 Step 5
Finally, add 2 teaspoons of thyme, 1 teaspoon of herbes de Provence and the tomatoes.
Cover and simmer on low fire for 30 minutes. Season to taste and serve immediately.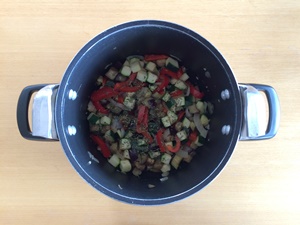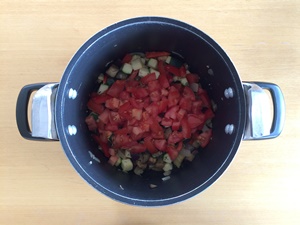 Result
Et voila, this is the result of an original french ratatouille recipe with the taste of home. Bon appetit!
If you have leftovers, you can keep them in a Tupperware box for 2-3 days in the fridge or freeze them to keep even longer. You can also make the ratatouille ahead of time and microwave when needed.
Do you have any questions? Would you like to see a ratatouille recipe Youtube video? Let me know in the comments below!
If you love this post, subscribe below to get more quick, easy, and healthy recipes like this.