This madeleine cookie recipe is my customized version of the traditional French Madeleine recipe. Look into your kitchenware to see if you have a shell shaped madeleine baking pan, or simply get one here. This French pastry recipe requires very little effort. I bet you'd soon be baking these madeleine cakes for friends. Be prepared to see your popularity skyrocket!
Depending on your mood, you can try a few madeleine recipe variations. You can stick to the ingredients below, replace the pecan nuts with walnuts, or the dark chocolate with white chocolate. You can even replace the butter with peanut butter. This recipe can be easily adapted to your tastes.
Madeleine Cookie Recipe Ingredients:
For approx. 24 madeleines
90g (3oz) flour
2 teaspoon baking powder
60g (2oz) sugar
2 eggs
15g (0.5oz) honey
100g (3.5oz) butter
3 tablespoon milk
40g (1.5oz) dark chocolate containing 60 to 65% cocoa
40g (1.5oz) pecan nuts
1 teaspoon vanilla aroma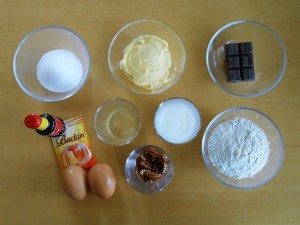 Kitchenware
a mixing bowl
an electric mixer
a knife
a cutting board
a spatula
a madeleine baking pan (madeleine cookie mold/tray)
Step 1
Preheat your oven to 210ºC (400F).
Put butter in a cup and melt it in the microwave oven. Tip: Don't use the maximum power of the microwave and set it to less than 30 seconds.
Break 2 eggs in a mixing bowl and pour sugar on them. Then add a teaspoon of vanilla aroma.
Get your electric mixer to work on the contents of the mixing bowl: the mix will rise, whiten and the surface will become foamy. This process takes 3-4 minutes.
Now, add honey to the mixing bowl. Then add flour and baking powder (better if you mix these two first).
The electric mixer is not done yet, go ahead and mix more.
Finally, pour the cooled down melted butter and milk into the mixing bowl.
Do a last round of mixing with the electric mixer.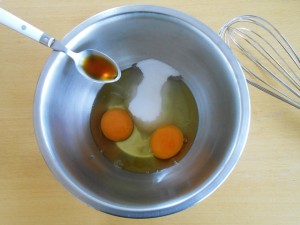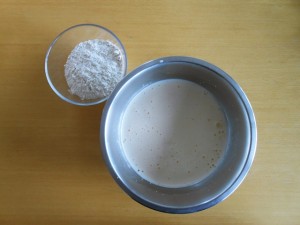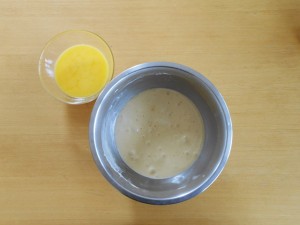 Step 2
On a cutting board, cut the chocolate into small pieces with a knife.
Break the pecan nuts into smaller pieces. I do it with my hands, a knife is not needed.
Put the chocolate and pecan nuts into the mix from Step 1. Mix well with a spatula.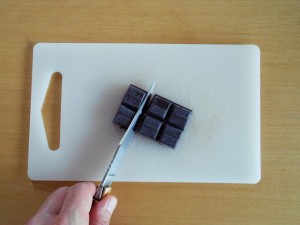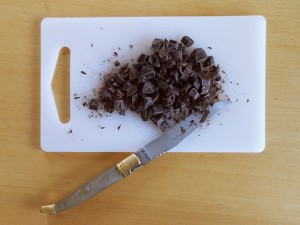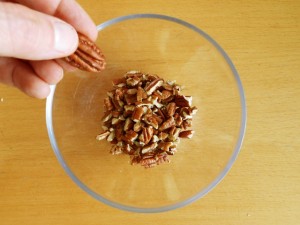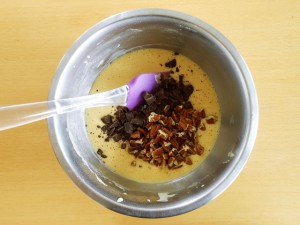 Step 3
Spread butter on the madeleine baking pan. Fill the madeleine pan with the mix from Step 2.
Bake for 10 minutes. You might have to make several rounds depending on the capacity of your madeleine baking pan.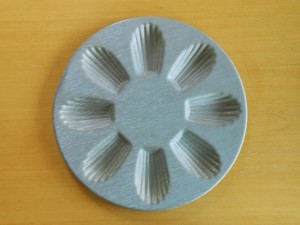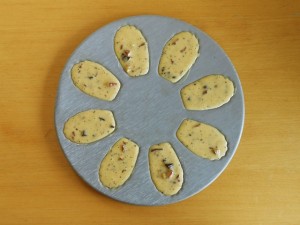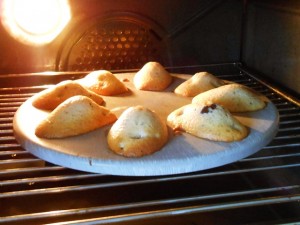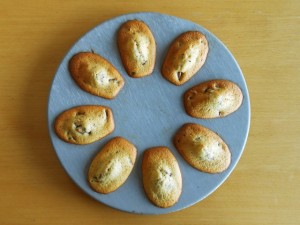 Result
See, not all French cakes and French dessert recipes are difficult, French baking can be easy too!
Tip: Madeleines are best when they are freshly baked. Let them cool down 5 to 10 minutes before eating, the outside will be crusty and the inside very soft.