It's very easy to find blueberry muffin recipes online and yes, they're very good. To introduce more variety, I'm going to share with you today an easy muffin recipe that contains mango, coconut milk and white chocolate. I also put cranberries or pears sometimes, that can be for future posts.
For now, you'll see that these muffins' flavor is a bit exotic, the white chocolate makes them sweet and the coconut milk makes them soft. If you like them – or if you don't 😉 – I'd be happy to have your feedback on this simple baking recipe!
Easy Muffin Recipe Ingredients (6 muffins):
1/2 mango
50 g (2 oz) white chocolate
2 eggs
100 g (3.5 oz) flour
1 teaspoon baking powder
75 g (2.5 oz) sugar
50 g (2 oz) coconut milk
a pinch of salt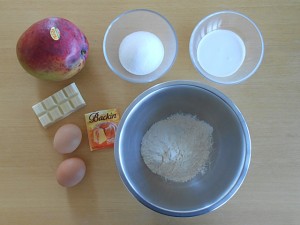 Kitchenware
a mixing bowl
a whisk or an electric mixer
a double boiler or two saucepans
a spatula
a knife
a cutting board
a 6-cup muffin pan
Step 1
Preheat your oven to 180ºC (350F). Beat the flour with baking powder and 2 eggs in a mixing bowl. Then add sugar and coconut milk, and mix.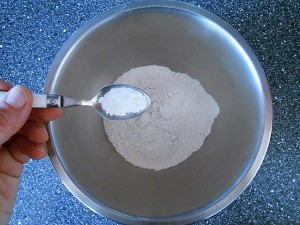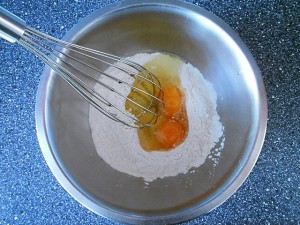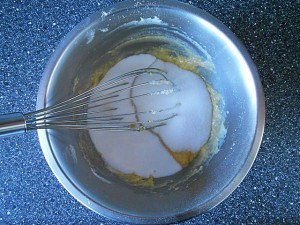 Step 2
Melt the white chocolate "au bain marie" i.e. in a double boiler. If you don't have a double boiler, put the white chocolate in a saucepan over a second saucepan containing boiling water (see picture). Mix it with a spatula when it's on the stove. When the white chocolate is evenly melted, pour it into the mix from step 1 and mix again.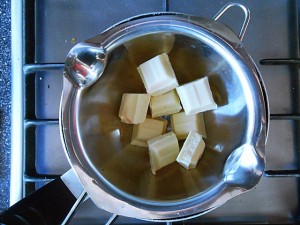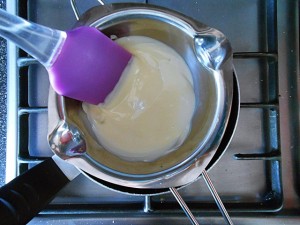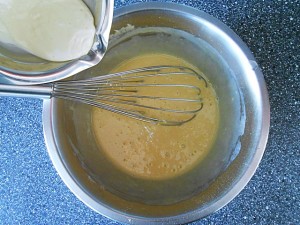 Step 3
Cut the mango into two. Keep one half and cut the other half into small cubes. Add the mango cubes to the mix from step 2.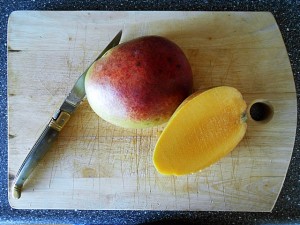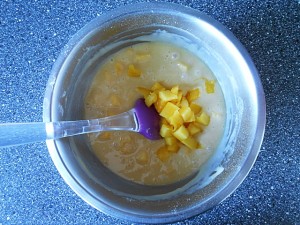 Step 4
If you use a metal muffin pan, spread butter on it (not needed if you use a silicon muffin pan or baking cups/cupcake liners). Then pour the final mix in: fill each cup up to 3/4. Put the muffin pan in the oven for approximately 25 minutes.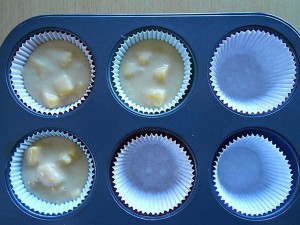 Result