I'm in a bad mood.
There are days when you feel things are not moving and you are very unproductive. The world around you feels like a movie in slow motion. Things don't get done and you have to chase after people or colleagues. Today was one of those days.
When I'm in my kitchen, things are different. I focus on my cooking and it clears my mind. Of course, when you cook, you need to focus. I once tried to answer the phone while baking and…there was suddenly some smoke and an awful smell drifted out of the oven, oops. The only thing I allow now when I cook is music. Cooking + music is a great way to relax after a working day – especially today!
As it's almost summer, I decided to cook a quick, easy and healthy summer vegetarian meal using the oven: a Mediterranean flavor vegetarian cake without sugar. And you know what? It's your turn to try it! What kind of music will you play?
Tip: I like to cut the vegetarian cake into thick slices and pack one for my lunch. I just eat it cold, add one or two fruits as snacks, and I have a full stomach.
Ingredients for One Vegetarian Cake, Serves 2-4:
 150 g (5.5 oz) flour
150 ml (2/3 cup) milk
3 eggs
2 teaspoon baking powder
1 courgette (aka zucchini/summer squash)
1 red pepper (aka paprika/capsicum/bell pepper/sweet pepper)
100 g (3.5 oz) dried tomatoes
1 garlic clove
3 tablespoon of herbes de provence
5 tablespoon olive oil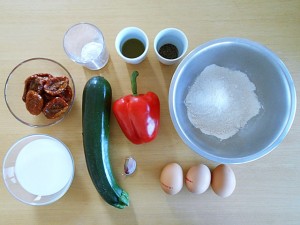 Kitchenware
a big knife
a cutting board
a non-stick fry pan
a mixing bowl
a whisk
a loaf pan (I prefer silicone)
Step 1
First, cut the courgette and red pepper into small cubes. Cut the garlic in very small pieces.
Pour 2 tablespoons of olive oil into a fry pan. Turn on medium fire and when the oil is hot, add the garlic first, then the courgette and red pepper.
Turn down to low fire, cook for about 10 minutes and then add the herbs.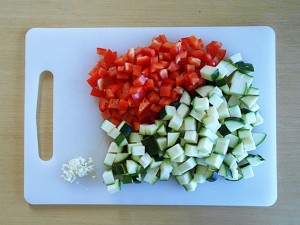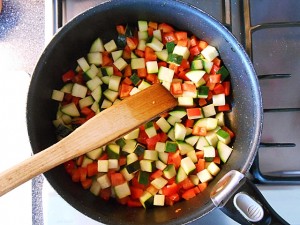 Step 2
Mix the flour, baking powder, salt, pepper and eggs together in a mixing bowl. Then add the milk. Add 3 tablespoon of olive oil and mix again.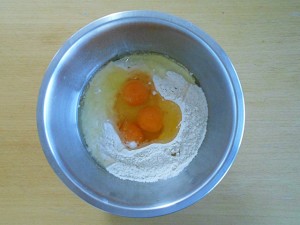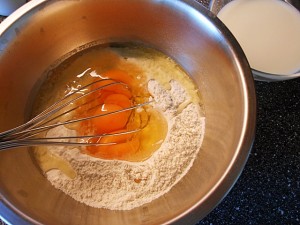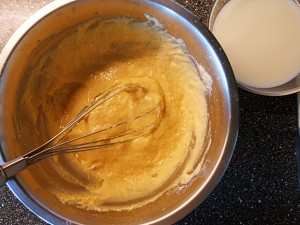 Step 3
Add the baked vegetables and the dried tomatoes. Mix all and pour into your loaf pan.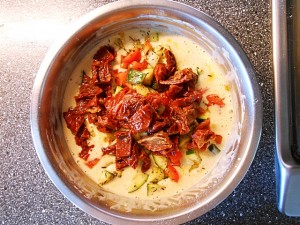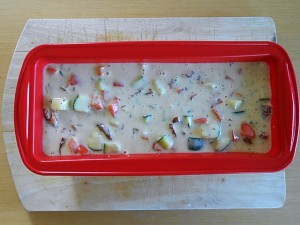 Step 4
Bake for 15 to 20 min in the oven at 210ºC (410ºF). Use a knife to check if the cake is baked: insert the knife into the cake then remove it, if the blade is clean, the cake is ready!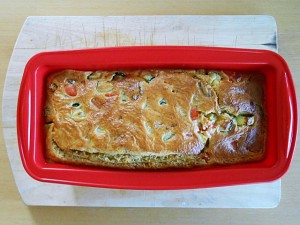 Result
Your vegetarian cake is ready! I especially like that the dried tomatoes and herbes de provence give the dish a Mediterranean flavor. What about you?
Would you like to see a vegetarian cake recipe youtube video? Leave a comment below!