"Shrimp stir fry" barked out the resident tyrant murmured my dear wife in her sweet dulcet voice when I asked for dinner suggestions.
An hour later, I found myself pounding the streets in the pattering rain. The pattering rain soon turned into a deafening downpour but I was a man on a mission. I had to buy those shrimps fresh from the food market. They were by far the best around, those from the supermarket and frozen ones had disappointed me previously.
Thankfully, my umbrella didn't give up on me and I was soon home in the comfort of my warm kitchen. And ready to prepare the shrimp stir fry ordered by Her Royal Highness.
Shrimp Stir Fry Ingredients, 2 Servings:
400g (14oz) fresh shrimps
1 tea spoon sambal oelek (or 2 for a spicier dish)
2 tomatoes
1 onion
3 garlic cloves
2 table spoons of olive oil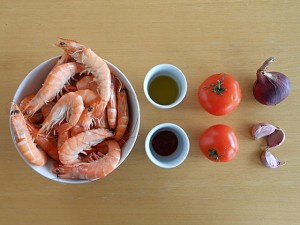 Kitchenware
a good knife
a non-stick fry pan
Step 1
The first step is to remove the shrimps' shells. Then cut the onion and tomatoes. Cut the garlic cloves into very small pieces or mix them with an electric mixer.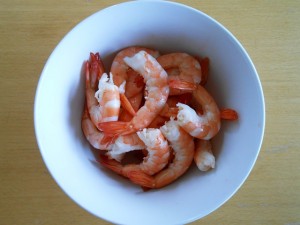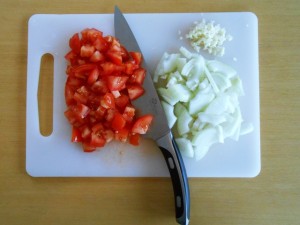 Step 2
Put your fry pan on the stove with medium fire and pour 2 table spoons of olive oil. Then add the previously cut onion and garlic. Stir for 2 minutes and add 1 spoon sambal oelek (or 2 if you like it more spicy). Leave it on the fire for 1 more minute and stir at the same time.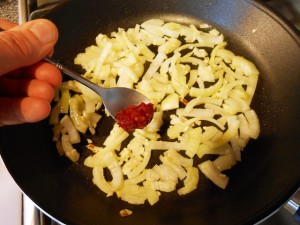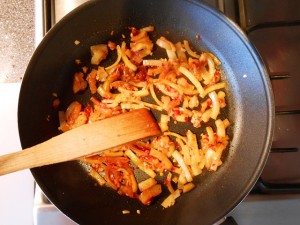 Step 3
Add the shrimps, let them cook for 4-5 minutes and then add the tomatoes. Stir for 2-3 minutes and it's ready!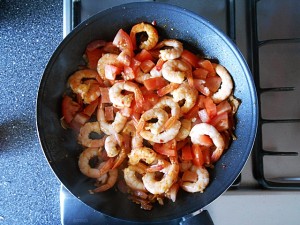 Result
Just serve it with plain rice (optional). It's a very simple and delicious dish.