This spinach and ricotta lasagna recipe came after a few attempts. I wanted to make it without using white sauce. The dish is lighter this way. If you are like me, you might prefer to use fresh spinach. Just make sure you wash them well. Pine nuts add a nice touch.
Similar recipes I found out there contain either tomato sauce or white sauce. I tried a number and they are good. If you want something slightly different, my variant is tasty and enhances the flavor of spinach.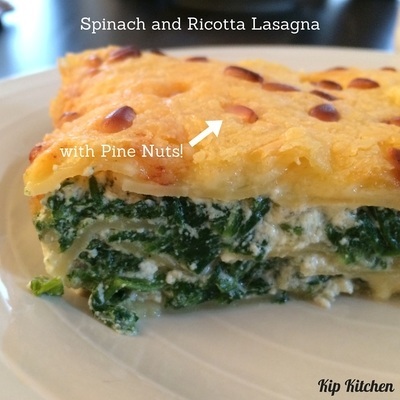 Spinach And Ricotta Lasagna No White Sauce
Course: Main
Cuisine: Italian
Difficulty: Easy
Ingredients
1 onion

200g/7oz fresh spinach

250g/9oz ricotta cheese

1 egg

6 dried lasagna sheets

200g/7oz/1cup grated cheese

4 tbsp pine nuts

1tbsp olive oil

salt and pepper
Directions
Chop the onion. Heat up the olive oil in a non-stick pan and cook the onion for 2-3 min until soft.
Add the spinach and cook for another 2-3 min until wilted. Remove from heat.
Toss the lasagna sheets into boiling water and cook for 8 min. Get them out of the water one by one and spread them on a wooden cutting board.
Preheat oven to 400°F/200°C.
Get a rectangular baking dish ready and spread 2 tbsp of ricotta cheese at the bottom. You can also add some juice from the onion spinach pan.
In a mixing bowl, combine the ricotta you haven't use yet, egg, salt and pepper. Tip in the onion-spinach mixture and mix well.
Layer lasagna sheets and spinach-ricotta mixture. Cut the lasagna sheets so they fit in your baking dish. Aim at 3 layers of lasagna with 2 layers of spinach-ricotta mixture in between.
Sprinkle grated cheese and pine nuts on top.
Bake for 20 min. Turn on the grill of the oven the last 2-3 minutes to get a golden and crispy top.