You should try this recipe. If you are a potato eater, it will bring a nice change. These baked sweet potatoes are tasty, soft and tender in the middle. And on top of that sweet potatoes are healthier than regular potatoes.
This recipe is a hit every time I make it at home. What's great about it is that you can do it for 2, 4 or 6 people with small effort. Just do several rounds in the oven. Once you have baked all the wedges, you can reduce the heat to 250°F/100°C and keep them warm in the oven until you serve.
Last time I made these baked sweet potatoes I served them with beef carpaccio. It was delicious.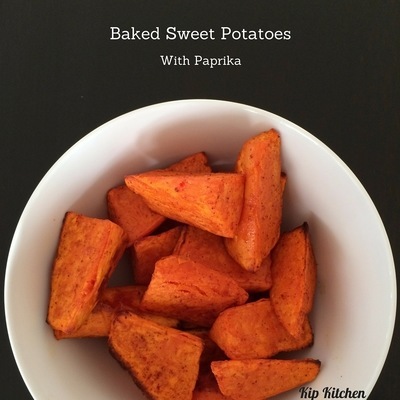 Baked Sweet Potatoes Recipe
Difficulty: Easy
Ingredients
2 large sweet potatoes

2 tsp paprika powder

2 tsp salt

2 tbsp sunflower oil
Directions
Preheat oven to 350°F/180°C.
Peel the sweet potatoes and cut them into wedges.
Put the wedges into a Tupperware box.
Add paprika powder, salt and sunflower oil. Close the box and shake it carefully until the spices are equally distributed.
Line up a baking sheet and place the sweet potatoes on it one by one with your hands so they don't touch each other.
Bake for 20 minutes, keep an eye on your potatoes the final 5 minutes of baking and make sure they don't burn.
Serve immediately.