If you are like me, you want your dinner preparation to be quick and easy. Quick and easy, however, doesn't mean crappy. Here is a great dinner idea inspired by Mexican tortillas I spotted at a supermarket.
You don't have to have anything special in the fridge. Avocado, onion, red pepper and some cheese would do the trick. Besides the ingredients, you'll need a good knife, like Dexter's, a pan, and 15 minutes of your time.
Tortillas Recipe Ingredients for 2 Persons: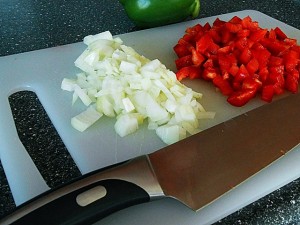 1 onion
1 red pepper (aka paprika/ capsicum/ bell pepper/ sweet pepper)
1 avocado
grated cheese
4 tortillas wraps
olive oil
Step 1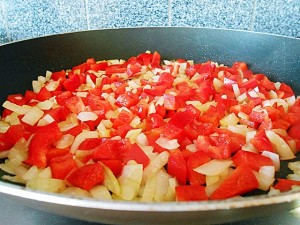 Cut the onion into small pieces. For that you need the good big knife I mentioned earlier.
Wash the red pepper, cut it into two and empty it. Then cut it into small pieces.
Pour two tablespoons of olive oil into a pan. Heat up the chopped onion first on medium fire. After two minutes, add the red pepper and cook it for ten minutes on low fire.
Step 2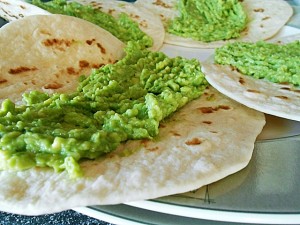 Cut the avocado into two. Remove the seed. Then the skin: you can peel it with a knife or remove the flesh with a spoon. Smash the avocado – I actually mixed it with an electric mixer.
If you want the tortillas wraps hot, heat them up 20 seconds in the microwave oven.
Spread the avocado on the tortillas wraps.
Step 3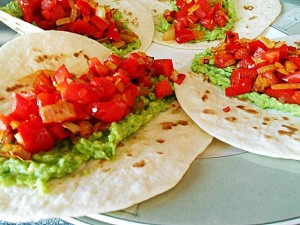 Spread the cooked onion and red pepper over the avocado. Sprinkle grated cheese over it. If you manage to do it fast, it will melt nicely.
Roll the tortillas and use toothpicks if they don't want to stay rolled (I had to, they were stubborn).
Result
That's how it looks like, sorry to leave you so fast but I'm hungry and it's still hot even after taking the picture. Bye!